Stran v slovenskem jeziku
Third Language Technologies Conference
NEW: Photos of all lecturers, and Web proceedings of the conference!
---
The Slovenian Language Technologies Society orgainsed, in the scope of the Information Society - IS 2002 metaconference, its third bi-annual conference. The conference topic was Language Technologies, i.e. the computational tools and methods that assist in authoring, exchange, structuring, searching, storage, translation and other processing of language data, esp. for the Slovene language.

The third conference Language Technologies had, as its predecessors in 1998 and 2000 the purpose to:
introduce LT, their use and the state of the art in the field
give an overview of the state of LT in Slovenia
discuss plans for the future of LT in Slovenia
The conference was composed of four events:
two invited lectures, with papers in conference proceedings;
regular contributions, with presentations and full papers in conference proceedings;
demonstrations, with presentations of products and working LT systems and extended abstracts in the proceedings;
regular annual meeting of the Slovenian Language Technologies Society.
---
Multimedia
Photographs of the conference lecturers
---
Proceedings
The Proceedings of the conference (37 contributions, 174 pages) have been published in printed form but are also available in the Web version PDF format):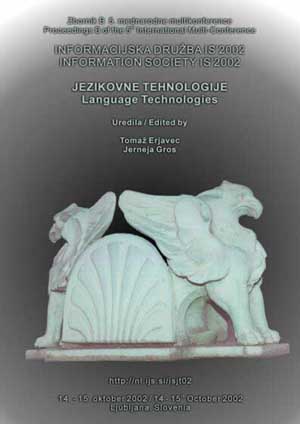 ---
Programme Committee
dr. Aleš Dobnikar
Government of the Republic of Slovenia, Centre for Informatics
dr. Tomaž Erjavec
Dept. of Intelligent Systems, Jožef Stefan Institute
dr. Simon Dobrišek
Faculty of Electrical Engineering, University of Ljubljana
Vojko Gorjanc
Faculty of Arts, University of Ljubljana
dr. Jerneja Gros
Faculty of Electrical Engineering, University of Ljubljana
dr. Primož Jakopin
Faculty of Arts, University of Ljubljana
prof.dr. Zdravko Kačič
Faculty of Electrical Engineering and Computer Science, University of Maribor
Jaro Lajovic
Slovene Language Technologies Society
Primož Peterlin
Faculty of Medicine, University of Ljubljana
prof.dr. France Mihelič
Faculty of Electrical Engineering, University of Ljubljana
prof.dr. Rastislav Šuštaršič
Faculty of Arts, University of Ljubljana
Špela Vintar
Faculty of Arts, University of Ljubljana
---
Organising Committee
Tomaž Erjavec <tomaz.erjavec at ijs.si>
Jerneja Gros <nejka at luz.fe.uni-lj.si>
Jaro Lajovic <jaro.lajovic at mf.uni-lj.si>
Špela Vintar <spela.vintar at guest.arnes.si>
---
Page updated 2012-12-04, et